Sam Bankman-Fraud
Welcome to Issue 26 of the Capriole Newsletter. We are quantitative investors in Bitcoin and digital assets. We deploy autonomous, risk-managed algorithms that trade 24/7. In our monthly newsletter we share the important industry updates, explore major trends, and review the technicals and macro fundamentals as they relate to Bitcoin. Our aim is to help dissect the noise in this industry, provide a birds eye view of what we believe is the most relevant data each month, and to help expand the field of on-chain analysis. You can read more about our open-source contributions here.
The crypto world was shaken to the core in November as top three exchange FTX went from having a Teflon reputation to being behind the biggest fraud since Bernie Madoff and Enron.
FTX and Alameda secretly used customer deposits through backdoors for speculative trading, acquisition of bankrupt companies, a billion-dollar loan to founder Sam Bankman-Fried (SBF), purchasing stadium rights, purchasing Robinhood stock, over $100M in donations to Democrats and other questionable activities.
The result?
A $10B balance sheet hole occurred in just 48 hours on November 8. Despite statements from FTX and SBF that assets were backed 1-to-1 throughout, millions of customers quickly faced a wide range of losses. The FTX fraud affected retail, seed investors, institutions, funds and pensions. Numerous entities have been bankrupted as a result of laying their trust in the crypto's golden-child; SBF.
This issue covers the FTX fraud, what it means for our industry and what the data says about Bitcoin's value as a result.
Let's dive in.
Summary
SBF's $10B+ fraud is equaled in size only Bernie Madoff and Enron.
Nonetheless, the long-term value proposition for Bitcoin and crypto is unchanged.
On-chain analytics provides more insight into transactions than any other industry. Capriole used it to protect investor capital.
A diamond in the rough: proof of reserves is the new industry standard to emerge.
SLRV Ribbons crossed green after the FTX collapse at $16.6K.
Bitcoin production cost discounts hit levels unseen since 2015, readings which have only occurred 3 or 4 times in history.
Bitcoin Long-term holder downdraw hits the 1-in-4 year, once per cycle, level.
A new all-time-high in Bitcoin long-term holding addresses, and addresses with non-zero balances, shows strong conviction and relentless adoption.
The Headlines
Here's the most important news in Bitcoin and crypto this month.
The Good
The Bad and the Ugly
Zooming Out
What does the FTX saga mean going forward?
FTX's fraud was largely a result of failed audit, a complex web of 134 companies, backdoors allowing SBF to steal customer funds secretly, a board of directors with just one member (SBF), awful treasury policy of converting customer deposits into illiquid assets, speculative trading of customer assets, taking leveraged positions… This is just the tip of the iceberg. And guess what, almost none of it has anything to do with Bitcoin or digital assets. SBF has familial ties with US regulators and the SEC. He was regularly meeting with US regulators and Senators in Washington. One must question why the most public figure representing the crypto industry in the US political justice system was the subject of so little examination, and to date remains free after stealing $10B from millions of people.
The long-term value proposition for Bitcoin and crypto is unchanged. The need for sound, hard, decentralized, digital money still exists. There remains no comparable unit of account which cannot be manipulated by any single entity.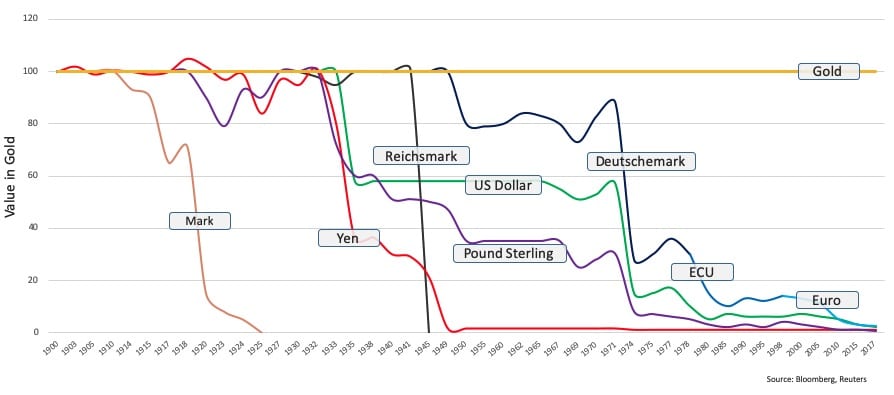 All fiat currencies inflate and die. The value prop of Bitcoin stands strong today. Source: Seeking Alpha
The deep financial efficiencies of decentralization, Dapps, DeFi, NFTs and more will continue to revolutionize finance and technology over the next decade. The world, and our lives, progresses further along the ever increasing digitization tangent – this shows no signs of slowing. One example of this digitization is seen in the below chart.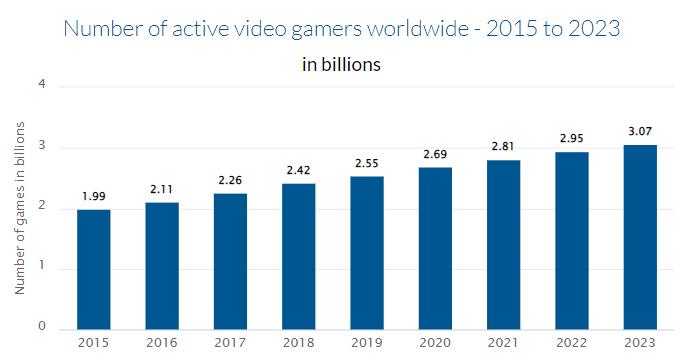 Active video gamers represent a huge share of the global population, and that share is growing rapidly. Source: Newzoo
One or two bad actors won't shift this trajectory. If anything, FTX's actions have made the quest for "don't trust, verify" more important going forward. There is only one industry which has already solved that problem for money and only one industry tirelessly building that solution out across the financial sector.
Remember that crypto has seen dark times before. This is a young industry, challenging and changing the world at lightning pace. In years past, centralized exchange hacks resulted in standardizing 2-factor authentication (2FA) security, which effectively ended centralized exchange hacking in 2019. Out of the FTX ashes, we already have positive change. As of November, most major exchanges are voluntarily implementing proof of reserves as a new industry standard, allowing customers to verify the backing of their assets.
Tracking Fraud On-chain
One of the greatest attributes of digital assets is we can track activities on-chain.
Bitcoin is a terrible asset for crime. It's 100% traceable. Most other cryptocurrencies can also be traced. Within hours of the FTX hack in November, Kraken exchange said they had identified the hacker. On-chain analysis was also invaluable in November for monitoring exchange risk and the Capriole Fund used it to monitor FTX exchange reserves and protect investor assets.
Hopefully the events of November never happen again. Nonetheless, it's good to know that we have more insight into exchange activities in crypto today than anyone does in traditional banking. It's been less than a month since FTX blew up, yet many of the biggest exchanges have already implemented on-chain proof of reserves, giving customer's even more granular information than is available in traditional banking. Of course, this is just a starting point. But this movement is a great representation of the power of this industry to move fast and a clear sign that the vast majority of us are here to do good. Any comparable form of proof of reserves implemented by a regulator would likely be years away.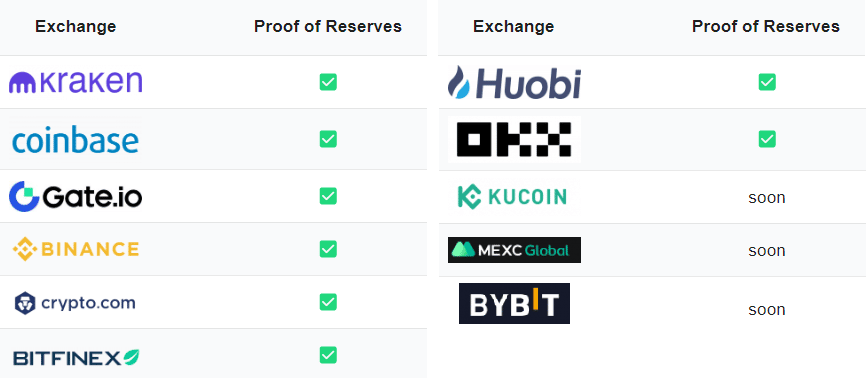 Status of on-chain Proof of Reserves for major exchanges. Source: Blockchaincenter
Bitcoin Fundamentals
On 6 November, Binance CEO CZ's tweet triggered the start of the FTX bank run resulting in its collapse less than 48 hours later. Just days prior, none of the FTX fraud and subsequent collapse could be foreseen by FTX customers. Bitcoin's price understandably collapsed as panic spread across the crypto market and millions of people lost their savings stored at FTX.
This resulted in a rare deepening of Bitcoin value to on-chain fundamentals.
Let's take a look at this month's key Bitcoin fundamentals:
SLRV Ribbons crossed green
Capriole's SLRV Ribbons was one of the few on-chain signals that had still been bearish throughout much of 2022 and recent months – until just after the FTX collapse. SLRV Ribbons tracks short- and long-term investor flows. At $16.6K it crossed bullishly. While SLRV Ribbons wont time perfect bottoms, it does a great job at risk-managing allocations to Bitcoin and capturing upside. We found that this simple strategy outperforms Bitcoin buy-and-hold by a wide margin.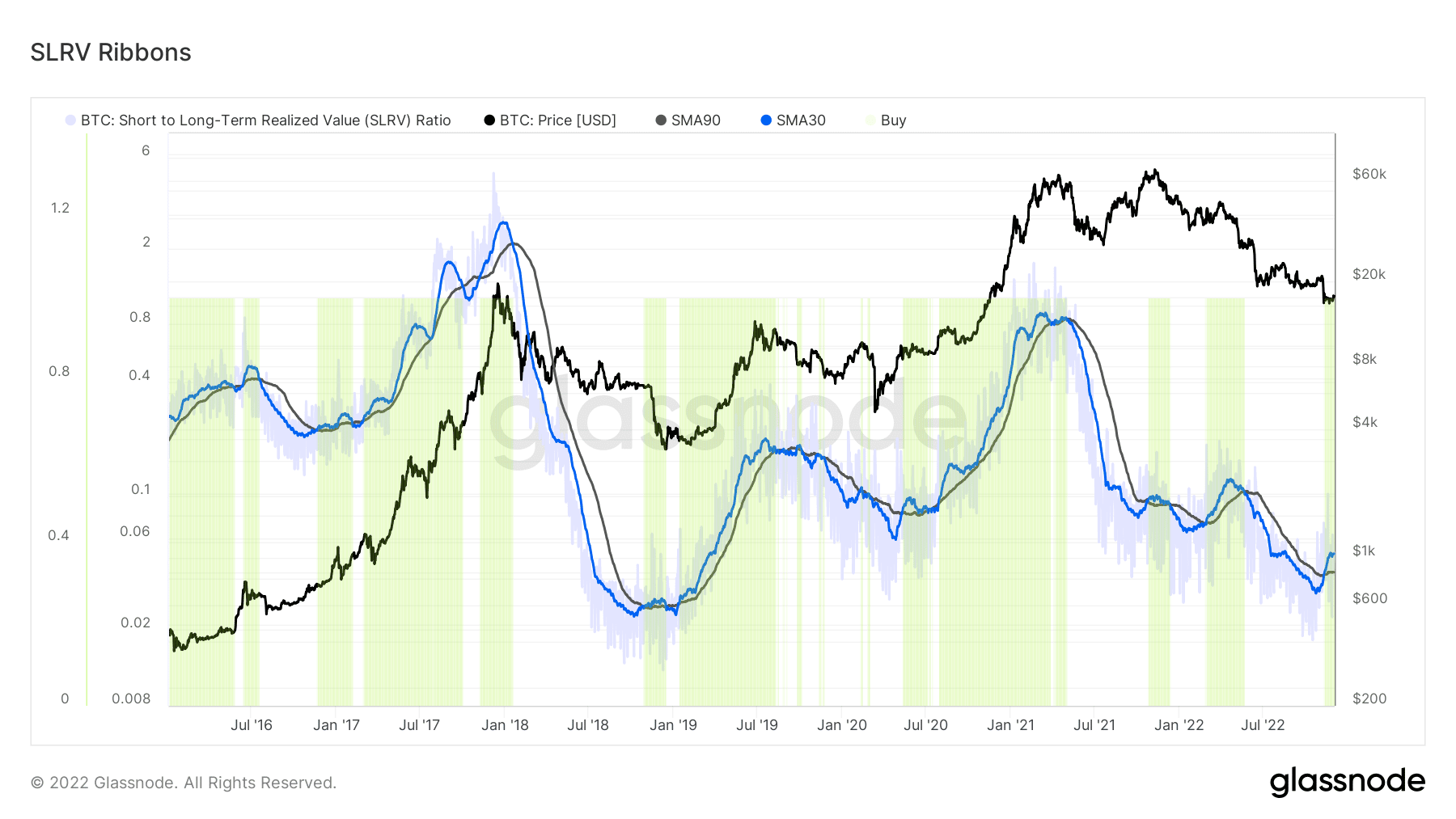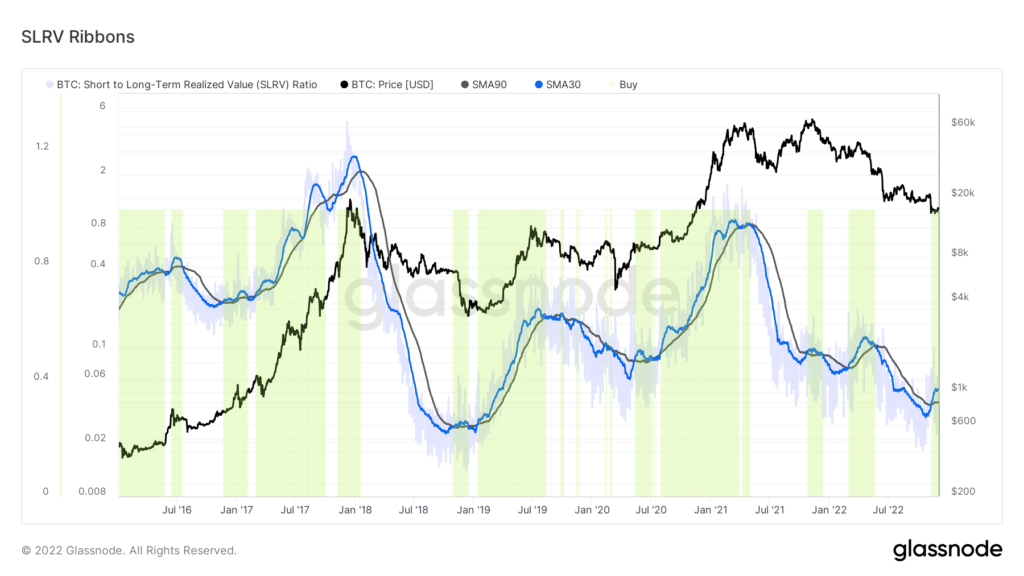 SLRV Ribbons crossed bullish at $16.6K. Source: Capriole Investments. Live Metric: Glassnode
Miner Capitulation
On 11 November, following the FTX collapse I tweeted that Bitcoin miner reserve selling went through the roof. The reason for this: the FTX collapse brought the Bitcoin price down below the Bitcoin Electrical Price (appr. $17K).
The average Bitcoin miner is operating at a loss today.
Capriole's Bitcoin Electrical Cost represents the cost to mine a Bitcoin based on the global average miner electrical cost of $0.05/kWh and with consideration of the mining hardware, depreciation and more (you can read more about Bitcoin Electrical Cost here). It is incredibly rare for Bitcoin to trade below its Electrical Cost – a price point which has been a historical floor for Bitcoin.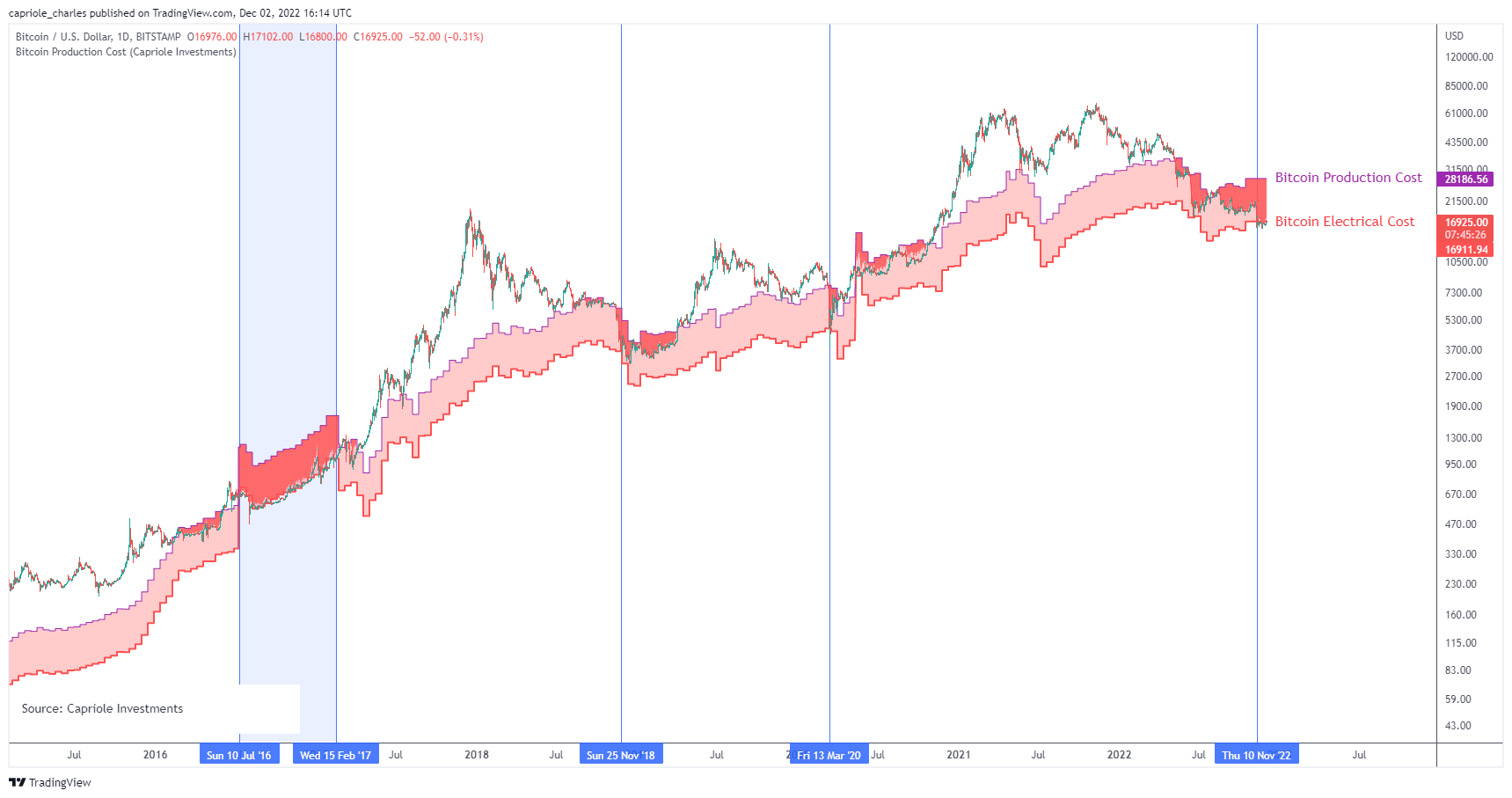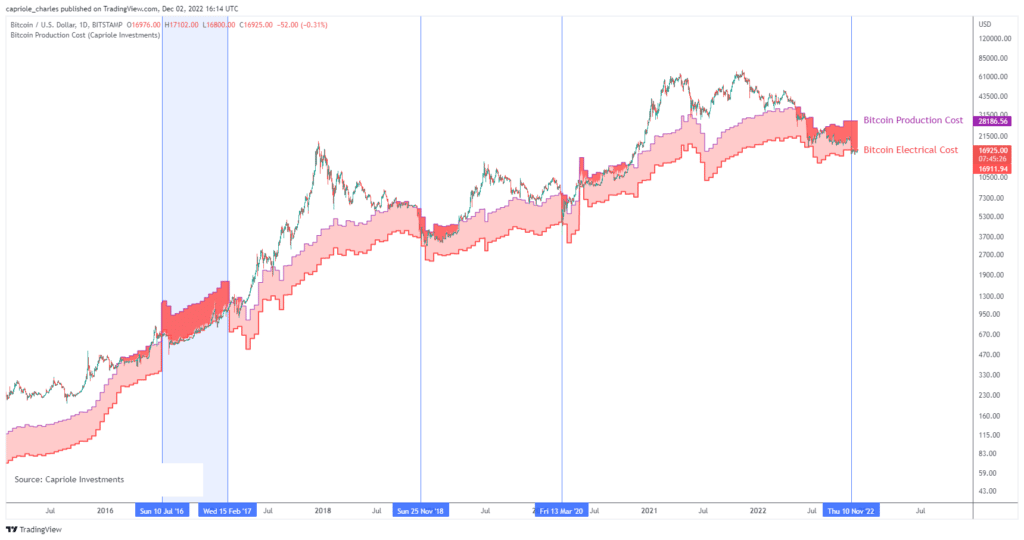 These mostly brief periods (Blue) are the only four times in Bitcoin history that price has traded below Bitcoin Electrical Cost. Source: Capriole Investments
Bitcoin Miner Sell Pressure
We can track in real-time on-chain that miners are selling larger portions of their Bitcoin reserves today. Capriole's open-source indicator "Bitcoin Miner Sell Pressure" takes the ratio of monthly miner selling to their average Bitcoin reserves. As you can see below, the miner selling was immense in November. The sheer magnitude of the selling provides strong confluence to the above Bitcoin Electrical Cost.
Today's price points mean it no longer makes sense for many miners to run their mining rigs, because their electrical bill is greater than their revenue earned from the Bitcoin block rewards. These miners face a choice, they can either:
Turn their mining rigs off to reduce their electrical bill, and/or
Sell their Bitcoin reserves to cover operational expenses.
We are now seeing both of the above take place. The level of Bitcoin miner stress today is seconded only by two other occasions. The 2 other times this occurred? Bitcoin was just $290 and $2!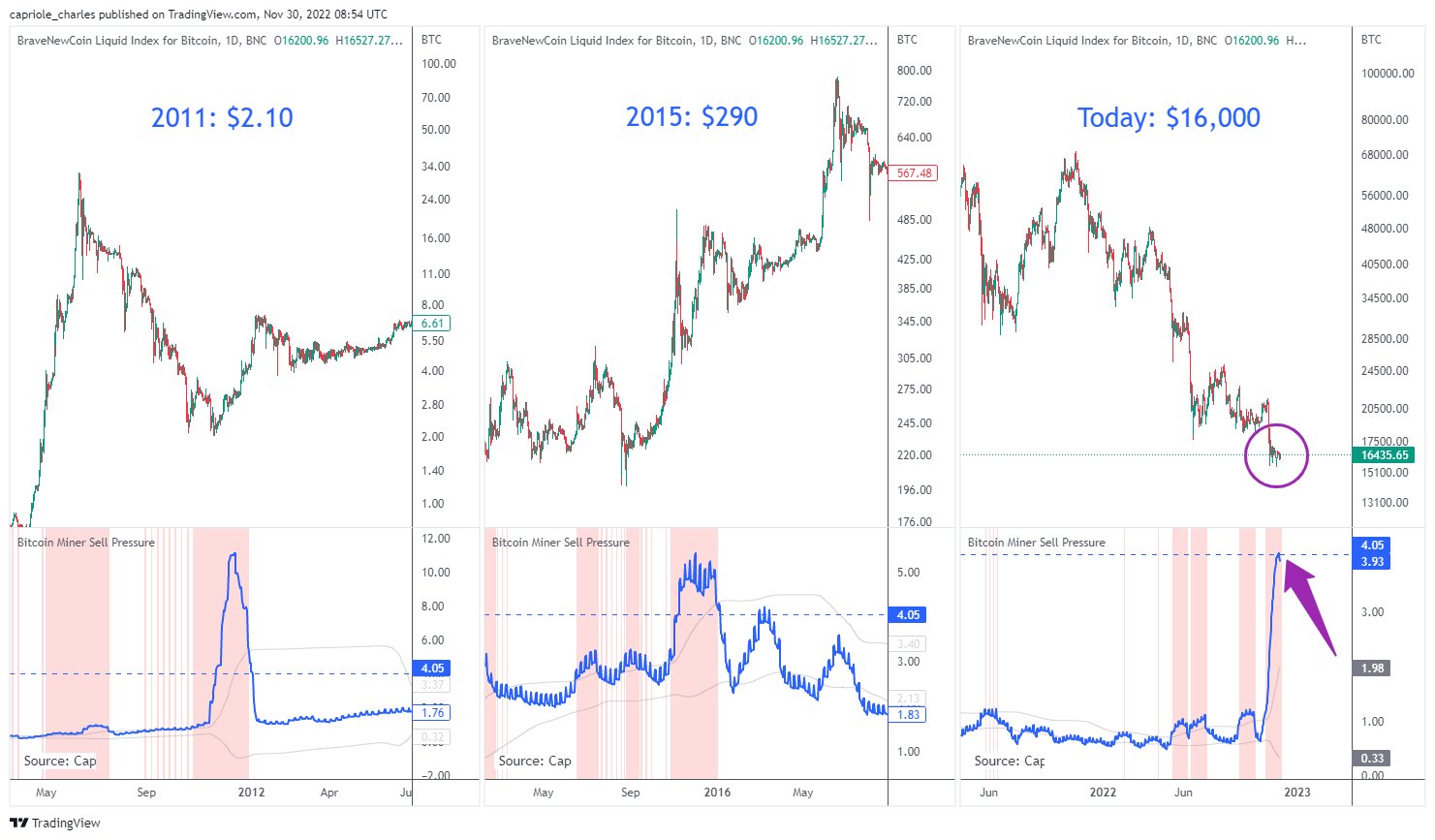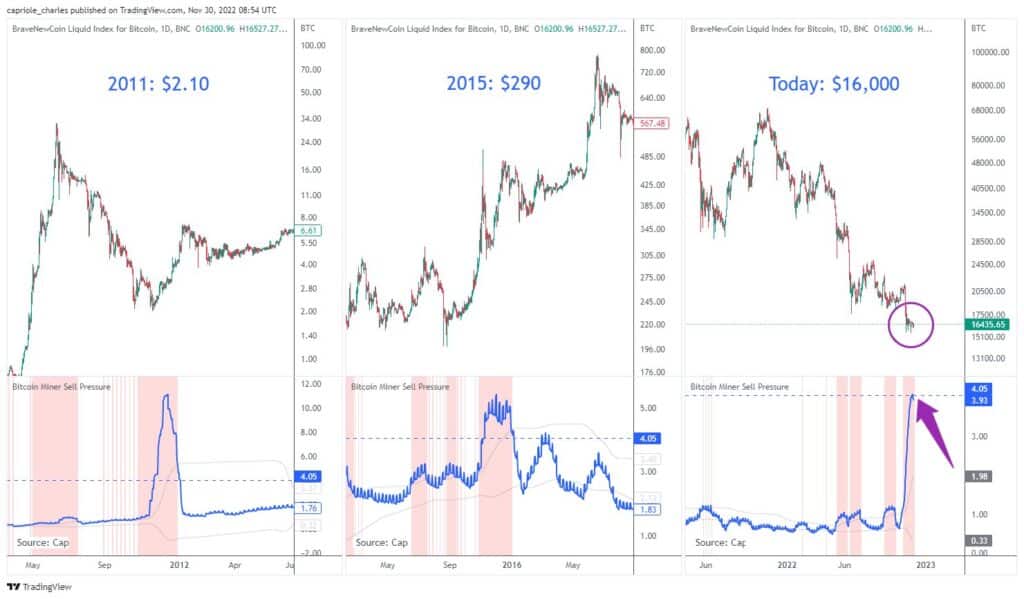 We are seeing the 3rd highest Bitcoin Miner selling of all time. Source: Capriole Investments
Once we identified that miners started unloading Bitcoin from their balance sheet, it was clear that a miner capitulation had started. This was then confirmed by Capriole's Hash Ribbons which crossed bearishly this week. Bitcoin's hash rate is now in a downtrend.
During miner capitulations, a price low typically forms during the capitulation and before we see hash rate recover. Sometimes the first candle of the miner capitulation is the price low. This is something to bear in mind, particularly given the unusual nature of the recent collapse. Nonetheless, buying the recovery is historically the safer move, which requires both positive hash rate and price momentum together.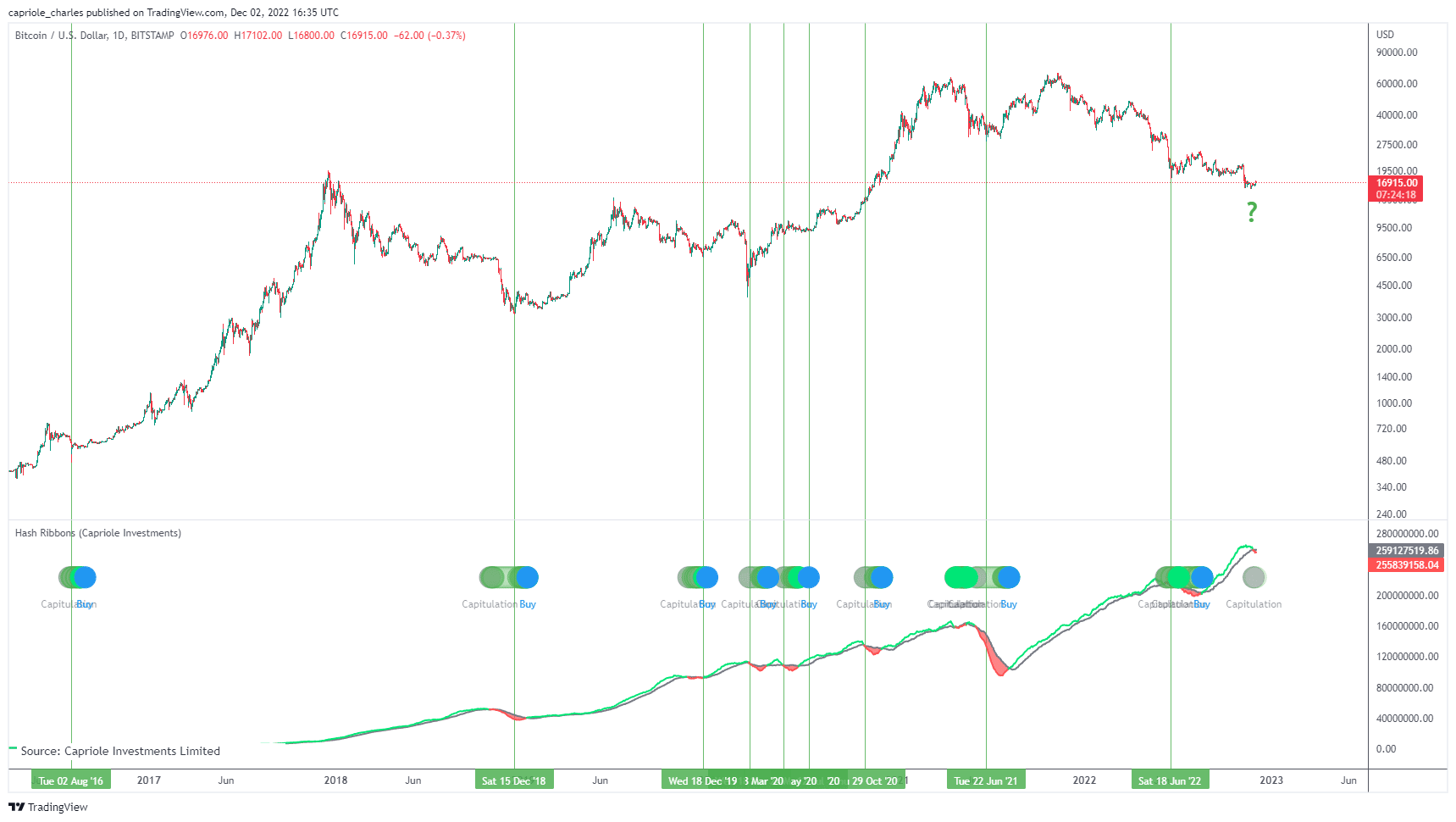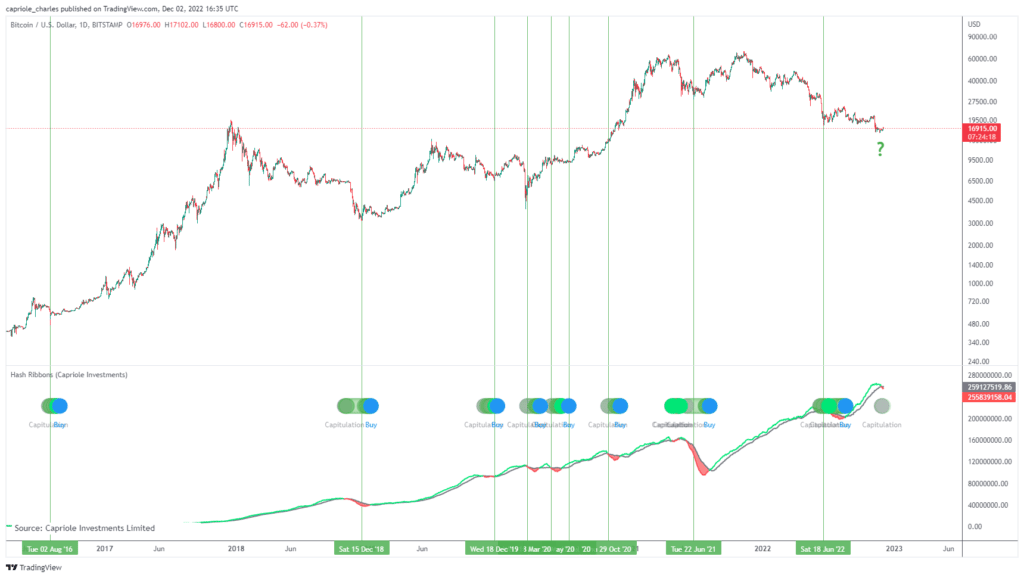 Capriole's Hash Ribbons confirmed a new miner capitulation on 28 November. Miner capitulations often identify local price lows (green lines). Source: Capriole Investments
Long-term Holder Downdraw
The Long-term Holder Net Unrealized Profit and Loss (NUPL) tracks the on-chain downdraw for those that have held Bitcoin for at least five months. As you can see, we have only had the current level of long-term holder downdraw on four occasions, all represented incredible value in hindsight.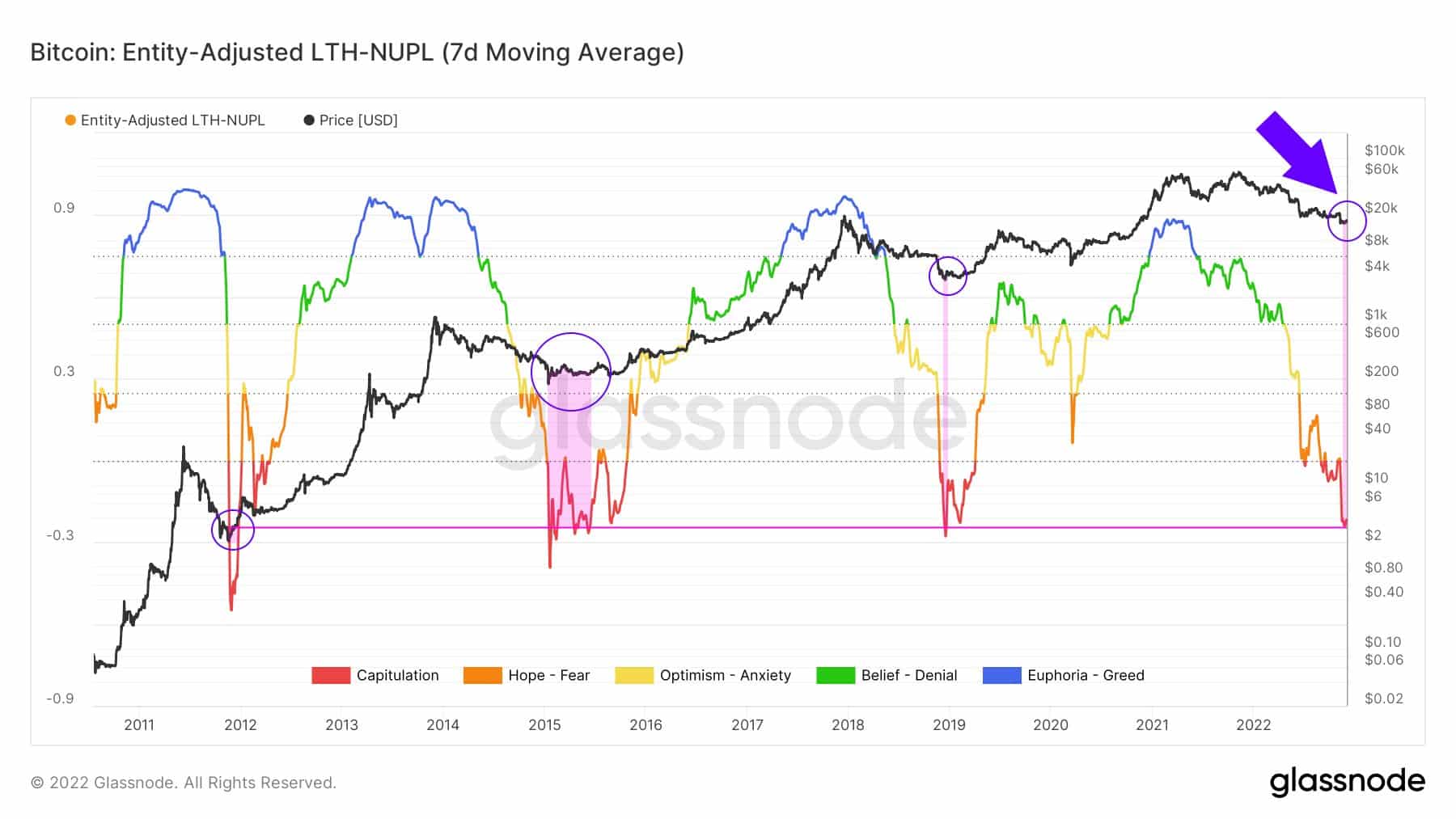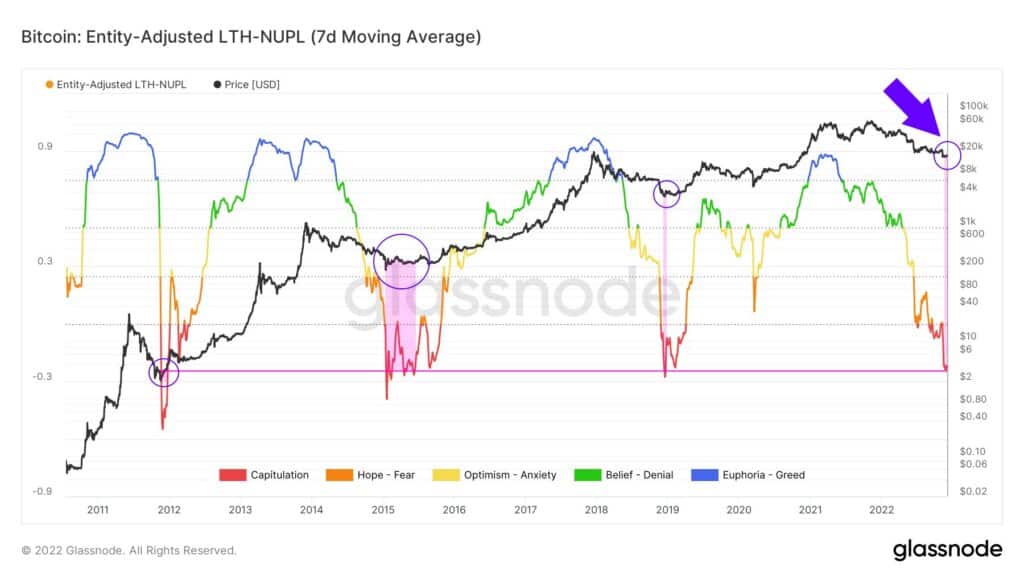 NUPL is showing incredibly rare on-chain value today. Source: Glassnode
The Full Picture
We believe the full picture of Bitcoin's fundamentals is best consolidated through Capriole's Bitcoin Macro Index. The Macro Index is Capriole's autonomous fundamentals-only trading strategy which uses machine learning to assess over 35+ Bitcoin on-chain and equity market metrics. It is just one of the many autonomous trading strategies we run.
Today the Bitcoin Macro Index is in contraction in a long-term value region. Short-term this means we may not be out of the woods yet, but long-term it means current prices represent a sizable discount on tangible on-chain value.
Bitcoin remains in a value region, with the short-term trend being contractive. Source: Capriole Investments
The Macro Index Oscillator. Source: Capriole Investments
Bitcoiner Backbone
Finally, how do Bitcoiners feel about last month's events?
Today, 66% of Bitcoin is held by investors that haven't moved their Bitcoin in over a year. This is an all-time-high. This peak holding ratio was set in November. Prior cycle peaks in long-term investor holding were characteristic value opportunities, often indicating the worst of the bear-market was over.

Long-term Bitcoiners are undeterred from recent events and Bitcoiner investor conviction is higher than ever before.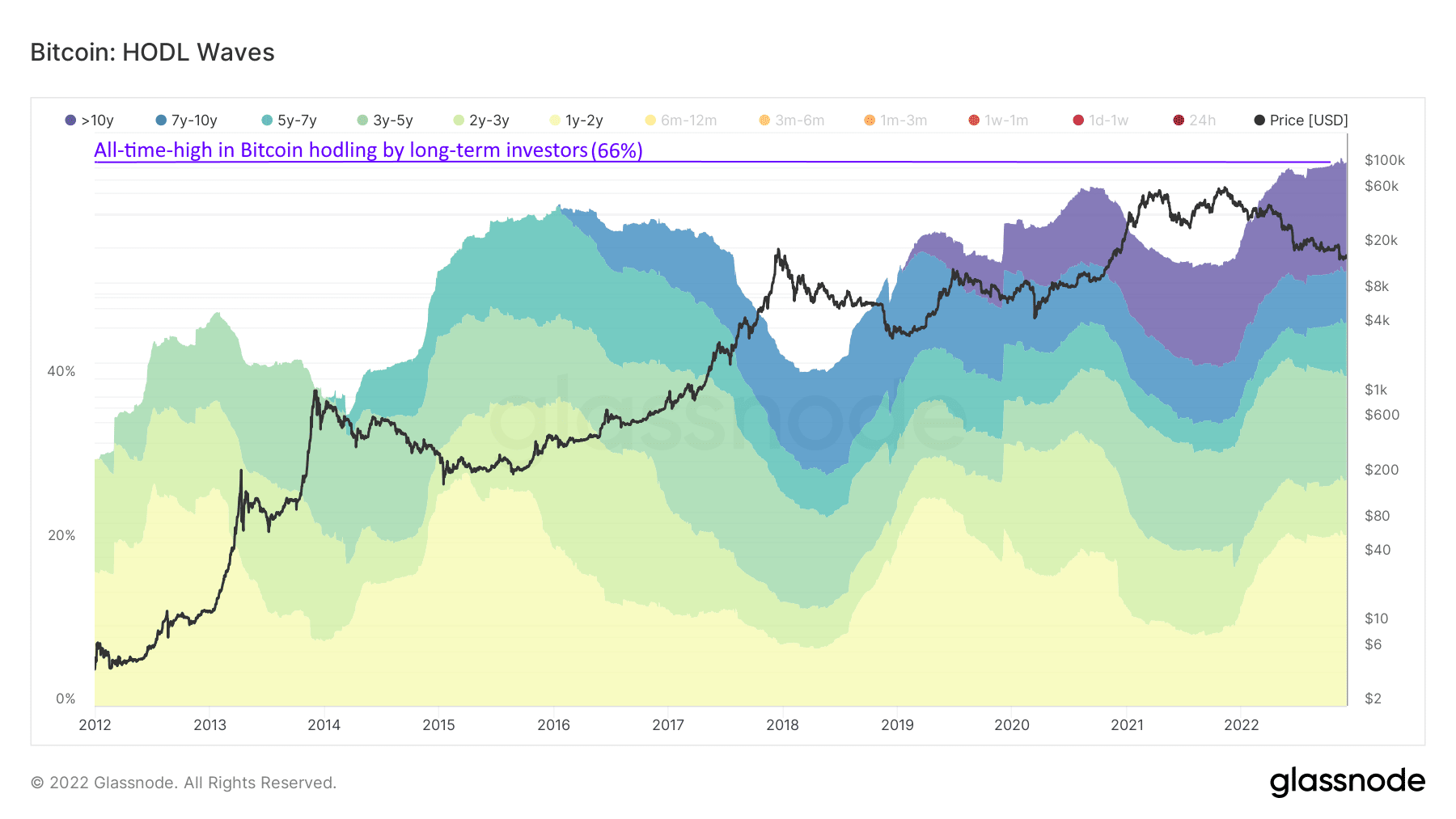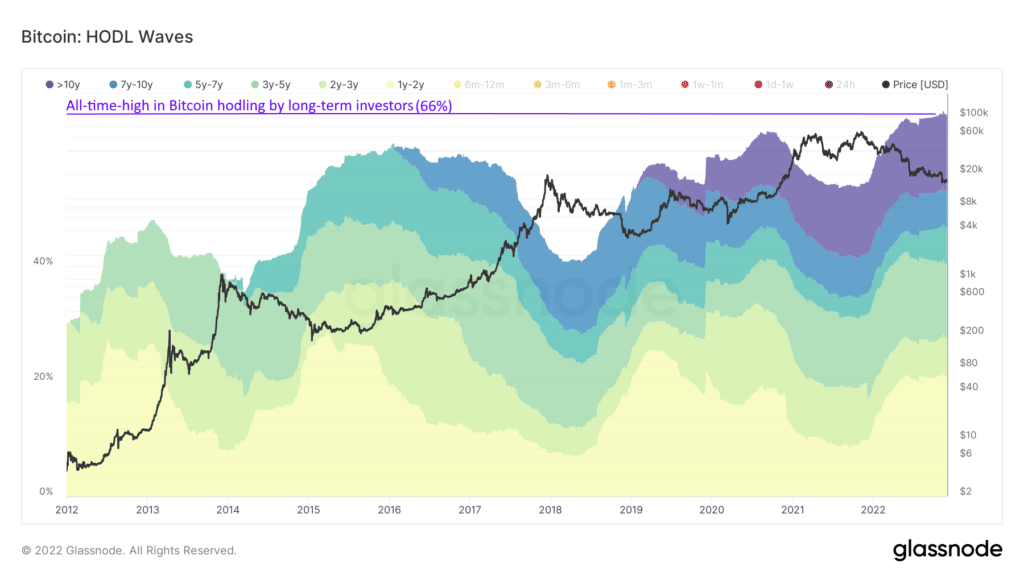 66% of Bitcoin is held by investors that haven't moved their Bitcoin in over a year. This is an all-time-high. Source: Glassnode
The Bottom-Line
November was a sour month for the industry. However, it was largely the result of the corruption and greed of one man combined with the oversight of his inner circle. The FTX collapse has hurt many and in the near-term the industry will need some time to lick its wounds.
Nonetheless, the long-term picture is unchanged. Bitcoin's value proposition is unchanged. Based on addresses with non-zero balances, and the percentage of coins held by long-term investors, Bitcoin is valued by investors today more than ever before in history. Recent events have only deepened the relative value of Bitcoin and grown investor conviction.
Value can always deepen in the short-term. In all bear markets, there can always be an argument for price to go lower and theoretical doom scenarios can be invented that mount on each other. Excessive negative "what ifs" cloud sound, probability weighted judgment. Zooming out, Bitcoin is seeing extraordinarily rare value readings today. Readings which have only occurred a handful of times in the past. And the investors that matter – the long-term holders – are betting big on Bitcoin.


Charles Edwards
Founder
Capriole Investments Limited